CML- CMIR Camera Evaluation 2015
Lighting & Lens details...results in detail follow the credits :-)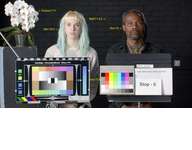 Exposed at T5.6
The flowers are 11.8 not 11 as indicated.

On the tungsten day we kept this level for all cameras, this meant that the 0-Stop reading on the 400 ISO cameras is actually -1-Stop
On the daylight day we changed levels, doubling the light level for the 400 ISO cameras so that exposures were constant.
The main light source was a Cineo Trucolor XS through a 8 * 4 trace frame to the left, and 8 * 4 bounce board to the right and either 1 or 2 12" Trucolor MatchStix as kickers depending on the level we were shooting at.
All PL mount cameras were shot using the same Cooke 50mm 5i lens
The B4 mount camera had a 20mm DigiPrime and the C mount cmaera had an antique 25mm T1.3
JPG's and DPX's were exported from Resolve by Josh our DIT during the shoot, I then made the RAW files in the manufacturers own software.
A lot of people helped make this happen, these are some of them...