Click on any of the pictures below to get a full 1920 * 1080 image
These images start at minus 5 stops and go at fullstop intervals to plus 5 stops.
These files are in the SI's RAW mode and are un-colour corrected.
They were shot by my assistants Dan Lightening and Dan Tubbs during the shooting of Mutant Chronicles, that's why they're a bit less comprehensive than normal!
I believe that they rated the camera at 320, it's our normal starting point for digital cameras, and that would explain why the plu one exposures look best.
The RAW SI frames were converted to TIFF files in After Effects 7 using the Cineform Codec
| | |
| --- | --- |
| SI 2K Mini 3200 | SI 2K Mini 5600 |
| | |
| | |
| | |
| | |
| | |
| | |
| | |
| | |
| | |
| | |
| | |
>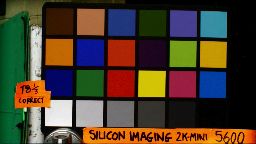 The frame above was colour corrected by Valeriu Campan of Melbourne

© copyright CML all rights reserved